Everyone wants Mermaid hair, okay maybe it's just Heather and I, well mainly Heather. Sometimes Summer can impede this process a bit when you end up having to cut your hair instead of growing it out...Summer is here and that means fun in the sun, swimming, BBQ's, and going to the beach. All of these things can be hard on your hair. At the end of every summer I usually cut about 2-3 inches off of my hair from all the "fun" that I've had. If you make sure to have these few essentials laying around, you should have no problem maintaining length, looks, moisture, elasticity, and shine!
Hair Ties
Beach Waves
Don't have time to actually make it to the beach, but you are dying for that messy ocean hair? There are so many products out there today that claim to work
and I have tried quite a few including Bumble & Bumble, KMS, Aussie, and the sadly discontinued John Freida Beach Blonde. One that has recently come to my attention for "all hair types" is
Aquage Sea Salt Texturizing Spray
, $17. This product can be a bit drying after prolonged use but it gives the desired effects with a nice light smell and even works on fine hair! If you do not overuse this product it leaves you with the
look
of beachy hair not the stiff
feel
of it.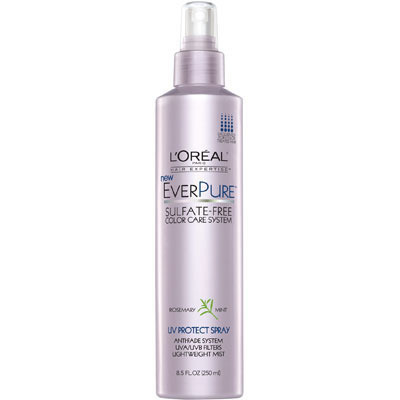 L'Oreal EverPure UV Protect Spray, Rosemary Mint
, $8.19 is getting harder and harder to find on the store shelves but it works amazing! I found it on Amazon for only $8.19 which is a steal. It is specifically for colored hair to block out most UVA/UVB rays and to prevent fading. This can be used even if you do not have colored hair to protect your hair from the sun's harmful rays. Added bonus is it smells great and is safe for daily use!

After Sun Hair Care
Deep Hair Conditioner
After all the Summer sun and hair products you use, everybody needs a break and a clean slate now and then. There are so many hair masks out there and they all basically do the same thing, but the product that has rescued my hair time and time again is
Fekkai Salon Technician Color Care Rapid Results Moisture Mask
, $39. You can get this product at ULTA (online or In-store) and use one of their monthly coupons on it to make it a bit cheaper than anywhere else. If you have normal hair, use this mask once a week. If you have dry hair, use this mask 1-5 times a week and your hair will thank you! The price is a bit steep but it literally works miracles.